Sale bij StyleTrash and StyleTrash loves Sale... Jij ook?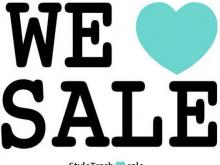 Sale bij StyleTrash and We love Sale!
En wie doet dat nou niet? Helemaal met de dure december maand in aantocht.
Op de hele collectie van Pretty Hot and Tempting hebben we hoge kortingen,
dus je kunt nu voor een leuk prijsje zo een super mooie PH&T Bag of Wallet scoren.
Ook de Boho sneakers zijn in de Sale. Niet alle maten zijn meer op voorraad,
maar misschien zit jouw maat er nog wel tussen.
Dus neem snel een kijkje bij de Sale van StyleTrash om te kijken wat er nog meer
in de opruiming is.....
Sale Pretty Hot And Tempting
De gehele collectie van Pretty Hot And Tempting is nu in de opruiming.
Heb je altijd al zo een super mooie tas willen hebben, maar vond je ze wat te prijzig?
Dan is dit je kans..... Wie weet is jouw droomtas van PH&T er nog!
Boho Sneakers Sale
Er zijn nog verschillende maten van deze te gekke Boho sneakers op voorraad.
En misschien ook jouw maat wel. De "Converse" gympen zou je al kunnen kopen voor
het voorjaar, maar de Gypsy Leather-look sneakers kun je deze winter al aan....
Maar er is nog meer in de opruiming bij StyleTrash, Neem snel kijkje bij de Sale van StyleTrash.
En maak nu je boho outfit voordelig compleet met StyleTrash!
Veel winkelplezier.....
XOXO
Patrice